Exclusive Q and A: Gold Fields Talk Buzz, Buds, and 'Black Sun'

Australia's Gold Fields are in for quite a year. After being named one of 2013's bands to watch by MTV alongside up-and-coming heavyweights like Macklemore, the band is ready to take their insanely catchy blend of synthpop and indie rock to the international masses. They've already toured the states with the likes of St. Lucia and Diamond Rings, and are gearing up for another US jaunt this February. We caught up with frontman Mark Fuller to chat about the triple recording of the band's upcoming album Black Sun, their remix process, and the effect of their massive burgeoning buzz.
OS: You guys just wrapped up a US tour with St. Lucia a little while ago. What was that like?
Mark Fuller: It was awesome. We were already fans of St. Lucia before we heard we were doing the tour and how it actually happened was that they asked us to support them. It was a pretty short tour, I think it only was six or eight shows, but getting to watch them every night was awesome. And when you tour with great bands like that you learn a lot, especially from their live shows; theirs is very tight, and they're almost perfect live. Even though they're a young band like us, they've got their live thing down pat. Touring with a band like that lets you learn a lot, but at the same time it's fun because we love their music. The shows themselves were in front of crowds that reminded us of crowds that we play in front of back home, and they were probably bigger. The show in New York was amazing. It was to a packed ballroom; Bowery Ballroom maybe? It was just packed and awesome. One of our favorite shows.
OS: You've been named a band to watch in 2013 by multiple big sources: MTV, MySpace, and more.  What's your relationship like with that buzz?  Do you try to ignore it?  Embrace it?
MF: We don't really feel it at all. I know that reading stuff like that " like MTV coming out and calling us a band to watch for the year " is really weird for us, because MTV to us is like this massive American thing. It seems almost like it's not real for something like that to happen, for them to talk about our band. Obviously we're thankful that they've done that, and we feel very lucky that they've come across us and are thankful they've included us. At the same time, anything like that isn't going to change what we're doing. Since we've started, we've always tried to do what's best for us and make sure we're having fun and get other people to enjoy it as well. Any sort of things like that " the buzz " you have to take it in your stride, but it doesn't change anything really. We're still doing exactly what we were going to do all along.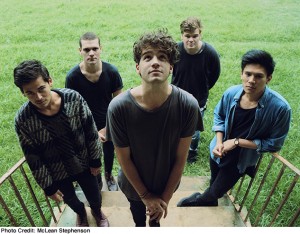 OS: You recorded Black Sun three different times, and the last time was just by yourselves.  Was there anything harder to record in particular when you were doing all the recording yourselves compared to being in those multi-million dollar studios?
MF: The thing about it was that it took a lot more time to get the right sounds that we wanted, because when we're in the studio with a producer, the producer knows exactly what sound he wants and he knows how to get it by turning knobs or moving a mic further away or closer; we don't know any of that stuff, so for us it was a lot of trial and error. When we started recording drum sounds in my bedroom, we knew that we should probably have a room mic set up somewhere in the room to get the room verb sound from the toms, but we didn't know where to put the mic. This is just one example of what happened countless times. For anything we recorded, we'd have to experiment with the best way to get the sound that we wanted. In reality, we probably didn't always get it right, and probably 99% of it is not the textbook way of recording. It's definitely not all by the book. It's us experimenting to find the best way to get the sound that we wanted. That was probably the thing that was the most different from recording with a producer in a studio.
At the same time, while it was more time-consuming, it allowed us to be completely free and do whatever we wanted to do, which was just as much a positive as a negative thing. I don't think there was anything that was particularly too hard to record, though. We had a friend, Malcolm Besley, who recorded the first demos we ever did. He actually mixed them. He's just a mate of ours from Melbourne. He came into the studio about three times and helped with things like that, like, if you're going to record toms you should put the mic in a certain corner of the room. The whole recording process in the garage just felt so natural and was sort of like a relief to us after trying to do it for so long and so unnaturally. It was a relief to do it that way.
OS: Black Sun, and the single Dark Again both share this juxtaposition of light and darkness. Is there anything meaningful behind that motif for the band or you as a songwriter?
MF: Yeah, there is. Naming the record that wasn't really " well it never really is " a conscious decision to show this light and shade difference, but after recording the album, naming the album, and even working on the artwork, in hindsight we look back and realize all these times we've said that we want there to be light as well as shade. Even going back to recording sounds. And for the artwork, we definitely said that we want some really nice things, but with some really dark things over them. The name of the record, Black Sun, is also pretty much exactly that. Two words that mean two totally different things. And then put together they sort of mold into this one thing that has both. And I think that's how the record sounds. There is a lot of darkness on the album, but then there's just as much light. It's more of a thing looking back in hindsight. We realize that that's what the record has been about: that balance between light and dark.
OS: The kind of crazy video for "Treehouse" also embodies some of those same qualities. Did you guys come up with the concept for that video as well?
MF: Yeah. We actually had a fair bit of trouble making the "Treehouse" clip. That was actually the first song we ever wrote and recorded as a band, and it was getting played on the radio in Australia before it was released in America, so by the time it got released in America we were writing all this other stuff and "Treehouse" was sort of an old song to us. But we still loved it, and it's awesome to play live. We sort of didn't know where to go with it when we had to make a clip for it. We just wanted to be playing in it. We just wanted it to be a normal band video clip, but chopped up with all these vignettes of things happening. Some of them are sort of random, but some of them mean stupid things to us. The song is about adventure, I guess. So we tried to have the clip take you into this other world. Like you said, it has a lot of light and a lot of character as well.
OS: You guys have also done remixes of a few artists including Yelle and Diamond Rings. How does that process work?  Is it mostly one person who does the remixing?
MF: It's pretty much Ryan, our drummer, and Vin, our guitarist. Over the past year, they've both become really good with using software and making the electronic side of things, which is why the album sounds the way it does. Ryan and Vin have learned to master music software and synths. We started doing remixes; the first few we did were just for Australian bands, and then we ended up doing a Yelle one and a Passion Pit one, and then we just did the Diamond Rings one. We all have our input into where it's going, but Vin and Ryan are always in the driver's seat working on it. Musically, it's good to be able to look elsewhere away from our album and do something aside from that. Remixes are a fun way to do that.
OS: Your name refers to the Goldfields region of Victoria.  Is it important to you guys to keep your identity as Australians with you as the band continues to grow its international presence?
MF: Yeah, I think so. Even just a band from Ballarat, the town where we grew up. We love it, and we love Australia more than anywhere in the world. It's our home, and it's an unreal place. The last time we were in the states, it was for almost three months, and by the end of it, we just wanted to get home to see our girlfriends and our families. It's just that feeling of being at home. I think we'll always be Gold Fields from Ballarat, Australia.
Pick up Gold Fields' new album Black Sun, which drops on February 26. Until then, check out their video for the single "Dark Again" below.
More like this: