Five Entertainment Alternatives For Super Bowl Sunday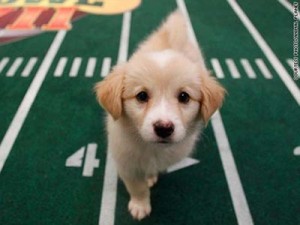 If you're among the many who cringe at the thought of partaking in any Super Bowl Sunday festivities, fear not. Just because you don't want to paint your face the color of your favorite team, wear your favorite player's jersey, or spend the day jumping up and down screaming in joy (or anguish) doesn't mean you can't have a good time this weekend. In fact, with most people preoccupied by the game, there's a lot to do with no crowds to deal with, and since you probably have no obligations, might as well take advantage. We've put together a list of five entertainment alternatives for those wishing to sit out the "big day" this Sunday. Check them out after the jump.
1) Puppy Bowl
Is there anything more heartwarming than the "Puppy Bowl?" Even if you're a diehard football fan, you may want to consider flipping between the two. I mean, who can resist those little faces, and especially that water bowl cam? Talk about catching the action from all angles!
2) Catch a Movie
If you're not into sports or puppies (you inhuman monster), there are a number of movies opening this weekend that you might enjoy. Among the weekend's top releases are Warm Bodies, The Haunting In Conneticut 2: Ghosts Of Georgia, and Stand Up Guys.
3) Television Marathons
If you're simply looking for all the benefits of the Super Bowl (ie: delicious, crappy food and not moving from the couch all day) without the all the sports, you can tune in to one of the many marathons airing this Sunday. Law & Order will air on TNT, NCIS on USA, Snookie & JWoww on MTV, and if it's not athletics, but just football that turns you off, click over to ESPN for the "World's Strongest Man Competition."
4) Get Competitive
Board games aren't just for kids. Start a little competition of your own by inviting family and friends over to play a few rounds Cranium, Pictionary, and maybe a little Monopoly if you really want to drag the day out.
5) Get Out of the House
Up until this point, all of our list suggestions have been indoor based. But no longer! Not everyone loves football, so there's a lot more to do during Super Bowl Sunday than you might think. Check out Liftopia for discounts on hitting the slopes this Sunday, or visit your local ice rink for some good old fashioned ice skating. If you really want to stay inside, check out Ticketmaster for comedy shows, theatre, concerts, and other anti-Super Bowl events. As a bonus, most of these events will cost a lot less due to the game.
More like this: