Exclusive Q&A: The Plot In You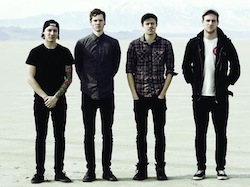 Rise Records has carved a unique niche in the modern alternative world as the go-to label for all things heavy. Their entire roster reads like a who's who of breakdown bands, and we could not be most excited to present an exclusive Q&A with one of their biggest acts, The Plot In You.
Having just released a new album in January of this year, we had plenty to talk about with the members of The Plot In You. Click below to find out the story behind their album titles, their plans for 2013, and much more.
OS: Hello guys, thank you for taking the time to speak with us. For the record, can you tell our readers a little bit about your history as a group?
TPIY: Started as a band for fun, a side project from my old band. After that band broke up I wrote an EP, showed it to Rise, we signed. I stole a bunch of dudes from different bands and here we are.
OS: Your sophomore album, Could You Watch Your Children Burn, arrives in stores later this month (1/15). Would you please tell us a little bit about the themes of the album? What inspired the title of the album?
TPIY: The title comes from a lyric in the song "Fiction Religion." If I were God I wouldn't be able to watch my creation destroy itself. There's songs about religion, people I hate, depression, selling my soul to the devil. It's all over the place.
OS: Your lyrical direction feels to be far more straightforward than your previous releases. What would you say has been the most influential in writing this record?
TPIY: Alot of crazy shit happened in my life over the past two years. Things I never thought I'd experience. It fucked with my head and made me look at the world in a different way than ever before. This record is a documentation of my insanity.
OS: Your rise (no pun intended) from the midwest to the national scene is one that many bands and aspiring artists look up to. What advice would you offer to people hoping to move their own careers in music forward?
TPIY: Make sure 100% that this is what you want to do, and make sure you know all the downsides before committing. But if you love it enough it'll be worth the sacrifice. It ruins your life in a sense.
OS: On the same topic, what about touring? The age of social media has put an increased emphasis on digital communication, but would you say hitting the road and playing shows is still just as important when establishing oneself?
TPIY: I think it's still the most important thing. Any band can pay a producer to make them sound amazing these days. That's not impressive. I still find so many bands from going to and playing shows. I know kids do too. It's way cooler to find bands that way in my opinion.
OS: What does The Plot In You's tour schedule look like for 2013?
TPIY: Busy, it's gonna be a good one. I'm stoked. Very busy.
OS: I want to thank you again for speaking with us. Before you go, do you have anything special you'd like to convey to fans?
TPIY: Stop giving a fuck about dumb shit and have a blast.