I'll Tell Ya What: Our Favorite Athlete Songs of All Time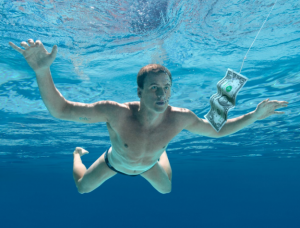 By Nick Friedman. So ESPN Magazine's "Music Issue" hit my doorstep yesterday morning and I'll tell ya what, its unreal. Outside of the insipid, dimwitted Ryan Lochte making an appearance on the cover of Nirvana's Nevermind with his goods protected by a Speedo (remember, that baby was NAKED), each and every other "cover act" was golden.
But after flipping through photos of linebacker Lamar Woodley as Jam Master Jay, quarterback Josh Freeman with immaculate, Michael Jackson-esque jerry curls, and MLB studs Brandon Phillips and Justin Upton rocking red Devo energy dome caps, I got to thinking: which athletes actually succeeded at making music? Obviously – with the exception of the late, great Wayman Tisdale – no athlete has ever really produced a full body of work we'd consider credible. Nevertheless, there have been some classic releases that I will forever enjoy bumping in my dorm room or in the hooptie. So, without further ado, here are my nine favorite athlete songs of all time. Why not ten? There just aren't ten.
9.) Wayman Tisdale—"Let's Do It Again"
The reason for holding the only athlete who I consider having a credible body of work at the number nine spot? Because my favorite track of his was just begging to feature Michael McDonald. Instead, Wayman decided to keep it strictly acoustic and left a would-be masterpiece haunting our consciences. Why no Michael McDonald, Wayman? WHY?
8.) Marquis "Q6" Daniels — "Kome Here Nikki"
"G-Shock, Gucci Shoes…I'm Wavy, Mayn!"
Many of us die hard Celts fans love to attribute Boston's disgraceful outing against Miami in 2010's Eastern Conference Semifinals to our irrationally moving Kendrick Perkins for Jeff Green and a dumpy Croatian at the deadline. My philosophy? Doc's ball club couldn't get the job done because Marquis was shipped to Sacramento for virtually nothing. The result? No more Q6 bumping in the locker room. Can't win without home grown Trap Muzik on your side.
7.) Bronson Arroyo — "Slide"
Using a World Series with the Red Sox to promote your best attempt at sounding like Johnny Reznik of the Goo Goo Dolls is…pure brilliance. Can't believe Bronson managed to actually hire a violinist for this live performance. Bravo.
P.S. Hearing Bronson sing "So why don't you just slide" twenty plus times will probably make you want to pull a Rudy Eugene. That's right, I'm talking biting some helpless homeless dude's face (as Bartholomew Hunt a.k.a. Chris Farley from Almost Heroes would say) RIGHT OFF!
6.) Steven Jackson — "N****s In Paris Freestyle"
"Trillest N**** Stern Let into the League, now I'm seeing more bread than lettuce with some cheese"
While my heart sides with Marquis, my music intellect won't allow me to award Q6 with the NBA's best rapper title over Stack Jack a.k.a. Stak5. The San Antonio Spur who gave Tim Duncan an emphatic "no" when asked if he could be featured on his latest album, said he'd eat Allen Iverson's lunch in a battle, and that he will never vouch for Ron Artest's music, has held it down for the land of chopped n' screwed (a.k.a. Houston, Texas) over the past year. Of all the daunting number of "N****s in Paris" so-called "freestyles" on the 'Net, nothing touches Stak Jack's. Especially when he's rapping about a Rolls Royce while parked in front of a Ford pickup…The epitome of "ratchet" rap dreams for ya!
5.) Roy Jones Jr. — "Can't Be Touched" feat. Magic & Trouble
After Roy Jones Jr. failed miserably to get his rap career off the ground in 2001, the only boxer to ever start his actual career as a light middleweight (154 lbs) and go on to win a heavyweight title formed his own group titled Body Head Bangerz. And man oh man did they knock out a banger. 225 on the bench for 10 listening to this joint? Cake walk…Hopefully Roy is still out entertaining Russians. I wish nothing but the best for that guy.
FYI…Roy Jones is hops on the third verse.
4.) Oscar De La Hoya — "Ven a Mi"
Enrique Ingel…! Oh wait, that's Oscar De La Hispanic Soul…Fuck.
3.) Bernie Williams — "La Salsa en Mi"
Watching the best center fielder and my favorite player of all time annihilate the guitar for a full 4:42 seconds to the strains of some Latin jazz is as soothing as a full twenty-five minutes spent in a Landmannalaugar, Iceland hot spring: to die for. Do I feel like I'm at the dermatologist when listening to Bernie and his multi-cultural ensemble? Yes. (Believe me, a lot of generic jazz is piped into my local skin doctor's office. Its great, actually.) But I don't care. And neither should you.
2.) Ron Artest — "Champions"
Dr. Dre must have a soft spot for the clinically insane because I don't think even a broke-ass Scott Storch would give Metta a beat to go in on. And for refusing to neglect mental health issues, we, the American Psychiatric Association, salute you, Dre. God bless.
1.) Shaq — "You Can't Stop the Reign" feat. Notorious B.I.G.
Can The Notorious croon? Not like Robert Goulet. Can he help churn out THE best athlete song of all time? I think so. Shaq's 2006 "You Can't Stop the Reign (Remix)" featuring Bun B, Busta Rhymes, and Papoose was great, but nothing tops the original.
P.S. The Ghost of Biggie Smalls shall forever haunt the Big Diesel for making an alternative version of their collabo with a stupid music video that DOESN'T feature the classic "black Frank White" verses.
More like this:
Follow more from Nick Friedman over at HitEmWhereTheyAint.