Capture The Crown Part Ways With Sumerian Records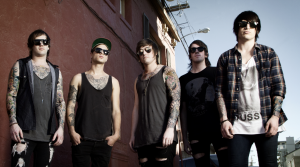 People like to think there are record labels that only sign the bands they believe in, but the hard truth is that many of the biggest alternative labels have housed at least a handful of bands who essentially double as 'quick cash' schemes. Epitaph signed I Set My Friends On Fire shortly after their cover of Soulja Boy went viral, Victory signed (almost any band they've signed since 2010 other than Close Your Eyes), and just over a year ago Sumerian Records made a poor, but understandable decision to sign Australian metalcore outfit Capture The Crown.
It made sense for Capture The Crown to be signed, it really did. Having no EP, tour history, or album, the band rose to viral fame for a single that looked and sounded like a poor man's Asking Alexandria. This generic take on modern metalcore led to the band garnering millions of views for the song, which again was essentially their debut recording, and before long labels came calling. Many people had already launched careers from YouTube, so if it happened for others it stood to reason the same could happen for a metalcore band if someone threw enough money at them – or so Sumerian thought. Less than two months later, Capture The Crown's debut, Til Death, was released. The band was featured on a number of big tours, but never matched the success of their debut. Now, almost a year to the day from the original signing, Sumerian has dropped Capture The Crown. A statement from the label reads:Weeks ago we announced we would be dropping a band. Everyone at Sumerian puts incredible amounts of time, energy and passion in to every band we work with and it's important that as we continue to grow, we have that same fire burning for each artist on the roster. We are now ready to let you know that we will be parting ways with Capture The Crown due to musical/creative differences. We wish them the best of luck in their future endeavors.
Capture The Crown responded to the news a short time after Sumerian's announcement went live. Their message reads:
We would like to thank Sumerian Records for everything they've helped us with over the span of our business relationship. In this time we were able to release our debut album, move to the US, tour with such great bands like Of Mice & Men, Every Time I Die, Chelsea Grin, Story of the Year & Volumes to name a few. Regardless of our current situation, the band is currently working on a brand new full length album which you will hear more about in the near future.
This may be the end of something good, but it's also the start of something amazing!
Only time will tell what the fate of Capture The Crown will be, but for now it seems they'll be pushing forward as an independent group. We'll bring you news on their future endeavors as/if they develop.