I Fight Dragons Part Ways With Longtime Member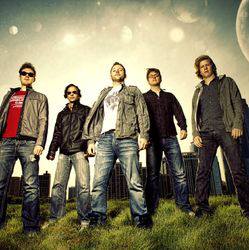 Today I Fight Dragons brought us the bittersweet news that longtime member, Bill Prokopow would be leaving the band indefinitely. Described as handling "Rock Band guitar, NES, SNES, NES advantage, NES zapper, keyboards, nintendo-control-center," Prokopow will be leaving before IFD's stint on this summer's Warped Tour, to focus on his solo project, Will Post. Unfortunately this means that Prokopow will also be absent from the band's forthcoming album, The Near Future. Check out a statement from  Prokopow below, and in the meantime, enjoy this little number to remember  him by.
Fellow Dragon Fighters, 
Bill here. I write to you today with a hopeful and determined heart. I have spent the past six years or so engaged in the mighty quest of giant lizard battling, and it has come time for my own quest to take a different path. I hear the call of strange worlds yet unknown and demons yet unseen, and must summon the courage to answer it and depart this merry band of my beloved travelers. 
I carry with me the lessons learned from many battles with my brave brethren " battles that have taken me from coast to coast, from major label board rooms to sold out stages. I carry with me the fond memories of befriending so many of you on our journeys, and of recording beautiful music with my best friends.
And even though my path departs, I will always consider myself one of the noble Dragon Fighters, and hope that our allied clans will continue to battle for balance in the universe.
It has been an honor and a privilege to fight with you these past years. If you're interested in following me on my journey, you can join me and my new moniker, Will Post, at willpostmusic.com.
– Bill
More like this:
88 MPH: I Fight Dragons Dust Off The Old NES
Warped Tour Announces Real Friends, Motionless In White, And More
The Beat Generation " Q&A With Anamanaguchi