Warped Tour Announces Next 12 Bands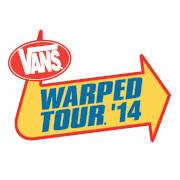 Usually on Thursday mornings we're pretty thrilled to bring you the next four, maybe five bands to play this year's Warped Tour. But this week, FuseTV's Warped Roadies has rattled off an incredible 12 new bands. So if your favorite band hadn't already been announced, your odds of seeing them this summer just tripled.
The next 12 bands to play the tour are The Summer Set, Dangerkids, Dayshell, For All Those Sleeping, Get Scared, Pvris, Wax, Watsky, DJ Nicola Bear, One OK Rock, Pacific Dub, and OurStage artist Heart To Heart. Did your favorite bands make the list? If not, check back next week, and in the meantime view previously announced bands below.
Dangerkids
Dayshell
DJ Nicola Bear
For All Those Sleeping
Get Scared
Heart To Heart
One OK Rock
Pacific Dub
Pvris
The Summer Set
Watsky
Wax
Bowling For Soup
Every Time I Die
Neck Deep
Alive Like Me
Ice Nine Kills
Parkway Drive
Vanna
TheCityShakeUp
We The Kings
Yellowcard
The Story So Far
We Are The In Crowd
Born Of Osiris
Beebs And Her Money Makers
Echosmith
Motionless In White
The Word Alive
This Wild Life
Real Friends
Courage My Love
Falling In Reverse
Breathe Carolina
Terror
I Fight Dragons
A Lot Like Birds
Less Than Jake
To The Wind
Secrets
MC Chris
Bad Rabbits
Chelsea Grin
Crown the Empire
The Maine
Volumes
State Champs
Enter Shikari (7/9-8/3)
Cute Is What We Aim For
Issues
Survive This
Anberlin (6/14-7/6, 7/16-8/3)
The Devil Wears Prada
The Color Morale
The Ready Set
Chunk! No, Captain Chunk!
NiT GriT
Saves The Day
A Skylit Drive
The Ghost Inside
I The Mighty
Beartooth
Mayday Parade
Attila
The Protomen
Tear Out The Heart
Plague Vendor
For Today
Stray From The Path
Mixtapes
Air Dubai
Teenage Bottlerocket
More like this:
Warped Tour Announces Every Time I Die, Bowling For Soup, And More
SXSW Announces Next Batch Of Artists
For All Those Sleeping Release Mark My Words Video