Jes Hudak And Corvyx Duet On Nirvana's "Heart-Shaped Box"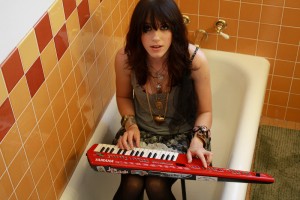 Cover versions of songs can be hit and miss. If you're covering a song, that generally means it's a song you love, which hopefully means that the original is pretty damn good, which begs the question, why do another version? In most cases, the answer is simply because you felt like it, which is perfectly fine, but fans of the original are probably not going to come away feeling especially rewarded.
Then there are the more rare cases where the covering artist brings something new to the song, leaving the listener with a new appreciation for a previously unrealized dimension of the song. Such is the case with this cover of Nirvana's "Heart-Shaped Box," originally from the In Utero album. It doesn't hurt that Jes Hudak and Corvyx are two of the most interesting singers out there, who also happen to harmonize beautifully together. And that this video was shot live is all the more impressive. Enjoy.
More like this:
Congratulations Jes Hudak, Winner Of The Ernie Ball Indie Pop Competition!
Jes Hudak: OurStage Pro Artist Of The Week
Bang, You're Dead: OurStage Artist Of The Week