Brittany Campbell's "Mean" (Lyric Video)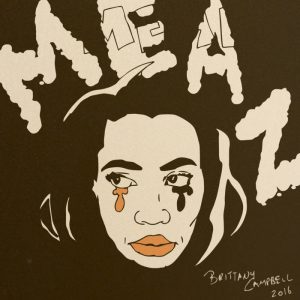 Last we heard from the extra-talented Brittany Campbell, she was reckoning with "Sexy Darth Vader" in an ambitious and extremely fun to watch video. Now the New Jersey singer, songwriter, and producer is back with a slightly more chill lyric video for her excellent song "Mean." But this being Brittany Campbell, don't expect some basic lyrics-scrolling-over-a-slideshow clip. "Mean" is an alluring trip, animated by the artist herself, that serves the song perhaps better than a distracting concept video might do.
This is the first single from her upcoming Stay Gold Pt. 2. You can buy the single (and check out Stay Gold Pt. 1) over on Campbell's Bandcamp.
More like this:
Sexy Darth Vader
Brittany Campbell: Artist Of The Week
The Upset Victory, "Don't Give Up The Night"