Heidi Lynne Gluck's New Single "Mercury Rising"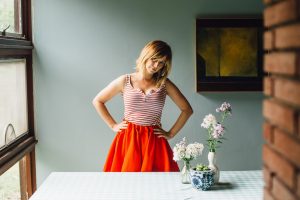 The multi-talented, multi-instrumentalist Heidi Lynne Gluck is best known to many as a utility player and session woman to the stars (including stints with Juliana Hatfield's Some Girls and Margot & the Nuclear So and Sos). But after a period of relative quiet, she's spent the last couple of years focusing on her own material. In 2015, Gluck released her debut EP The Only Girl In The Room, a beautifully rootsy 5-song collection on which she was the sole performer.

In advance of her new full-length album Pony Show, due August 26th on Lotuspool Records, Gluck has released the single "Mercury Rising," a rolling, melodic song with a vaguely "Man Who Sold The World" vibe that showcases her breezy, drawling voice and imagery rich lyrics. See below for Pony Show's full track listing.
Tracklisting
1. Pony Show
2. Mercury Rising
3. Sadness Is Psychedelic
4. Better Homes & Gardens
5. Waiting For You To Say It
6. Pin Striped Vest
7. I Like 'Em Cruel
8. The Universe Had Split
9. Wolf
10. Jumping Vows