Interview: The House Of Jed's Jarrod Gollihare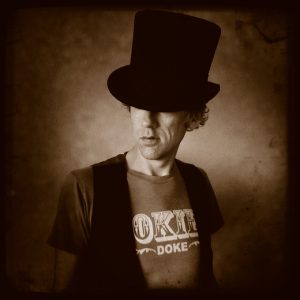 A few years ago, OurStage ran a competition in partnership with the microchip giant Intel, searching for talent in various genres. One of the overall finalists was a song called "Coming Off Pretty" by what appeared to be a band called The House of Jed. On further inspection, it became clear that The House of Jed was actually the solo project of Jarrod Gollihare, who is a member of Admiral Twin, a band that had made a big impact on the site a couple of years prior. Although the folks at Intel ultimately selected another artist as their overall winner, we here at OS HQ were taken with "Coming Off Pretty," a catchy burst of vaguely electro pop. We followed as Gollihare turned out several more excellent organic/electronic hybrid jams, including a couple of impressive videos. Out of curiosity and fandom, we approached him with some questions about his career and creative process, and he graciously took the time to answer. We found it interesting enough to make into the following interview, which has been lightly edited for clarity.
OS: I'm curious about your process. The music sounds really pro, but I imagine The House of Jed as a one-man operation from start to finish – is that accurate? Does anyone else perform, engineer, mix, or otherwise aid in the work?
JG: It is indeed a one-man operation. With the exception of a few backup vocals on "Everybody Lies" (courtesy of my wife Jaime) all the House of Jed sounds are made, engineered and mixed by me…in my one-room studio [at home]. For better or worse. I've got no formal production training. Everything I've learned, I picked up by peering over the shoulders of producers and engineers who actually know what they're doing. Or by watching Internet videos. Or by trial and error. So, in other words, I'm pretty sure I do a lot of production stuff completely wrong, and I probably take way longer to accomplish recording and mixing tasks that could actually be done much more efficiently and effectively by a real professional. But I have fun.
OS: Do you program your drums? How do you get those sounds, which seem like a mix of real and programmed?
JG: Most of my recorded drums are played on my kit. Drums are actually my primary instrument. When it comes to recording a song, I'll often put down a programmed drum loop over which I'll record a scratch guitar and vocals…giving me a "roadmap" of sorts to use for recording my kit. And that programmed loop sometimes makes it into the final mix in little sections of the song, or layered with my real drums for effect. I don't use anything too involved to make my loops, though. In fact, I either use this old freeware program called HammerHead (a super simple rhythm station that emulates a few sounds from Roland 606, 808 and 909 drum machines), or I use pre-made rhythms from an inexpensive (very unprofessional) Casio keyboard I've had for years. In fact, some of the keyboard bass I occasionally use comes from the "organ" setting on the same Casio. Another thing I do occasionally is cannibalize old drum recordings from my other band, Admiral Twin. I have a wealth of material I can re-purpose by slowing the isolated tracks down or speeding them up, and then chopping them into entirely new rhythms. The drums on "I Won't Survive You" and "Last Entry" are re-purposed Admiral Twin drums.
OS: Do you use other virtual instruments, from apps or other software? Is that an Omnichord on "O Caligula?"
JG: I use virtually no virtual instruments. The bass on "Last Entry" is a virtual Moog that I programmed into a 12/4 pattern over which I played drums in 4/4 time to create a slightly off kilter pulse. That's really about it, though. I tend to use real instruments. And yes, that's an Omnichord you hear on "O Caligula." It's one of my prized eBay purchases. In my studio, I also have a small collection of guitars; a ukulele, a Danelectro bass; a MicroKorg synth; several cheap, consumer-level Casio keyboards from the 1980s (eBay baby!); a xylophone; a small Ludwig breakbeat drum kit, and quite a lot of percussion bits and bobs.
OS: I haven't seen any tour dates – do you perform live with House of Jed? Any long-term goals beyond what you're already doing?
JG: The House of Jed is a studio project for now. But I'd sure like to get these songs on stage at some point. I do play drums and sing with other acts though. One of those is Admiral Twin.
My goal for any song I write and record is (first and foremost) to make people feel something. Art of any kind is the closest thing to actual magic I can think of. And that's a big deal to me. However – I'd sure like to earn some money with what I create, as well. It's what I do best, after all. My big personal career goal is just to be able to get up everyday and work on art for a living…to pay the bills with my songs or writings or paintings (or a combination thereof). I'm grateful for my dayjob (my wife and I both work for a social media management company) but being a full-time artist is the real goal. I got a brief taste of the full-time musician lifestyle with Admiral Twin back when we were signed to a subsidiary of Universal Records. We got to put out one national release, and then – a few months after our CD hit the shelves – the label we were on (Mojo) folded, like so many other labels did at that time. We've been indie ever since. It was a good ride while it lasted.
OS: Do people call you Jed?
JG: Some of my friends call me Jed. Picked up that nickname in 6th grade…somehow it stuck. So feel free!
On Twitter:
More:
"I Eat Earthquakes Like You For Breakfast"
House of Jed Releases "O Caligula" Single
Video Of The Month: "Better" By Aüva