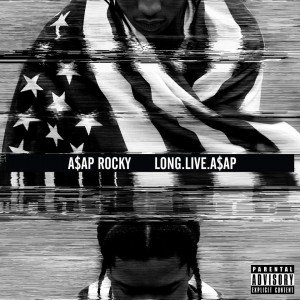 After about a year of heightened anticipation, Rakim Mayers – better known as A$AP Rocky – has unveiled his debut album, Long.Live.A$AP. Released on January 15 by A$AP Worldwide, Polo Grounds Music, and RCA Records, the album has made a rather big splash in the urban world and has earned the artist a multi-million dollar record deal, the likes of which have not been seen since 50 Cent began his successful career about a decade ago.
Quickly rising through the cracks of the underground rap world, A$AP Rocky's debut album has earned him a seat the top at the top of the charts. Long.Live.A$AP features two promoted singles – "Goldie," which is the lead single off the album, and "Fuckin' Problems," which features guest appearances from rappers Drake, 2 Chainz, and Kendrick Lamar. The two tracks are quite different from each other in terms of style, energy, flow, and lyrical content, but are both very well produced. In fact, the entire album is well structured with heavy emphasis on production value. A$AP's beats are unique to that of many other rappers, which is perhaps why many have flocked to his music; it's a new sound.
Unfortunately, guest artists and featured producers aside, A$AP Rocky's material is perhaps the weakest aspect of the album. A$AP offers next to no lyrical inventiveness, nor is there any actual substance to his lines. He spends most of his verses re-hashing well-worn hip-hop tropes " bragging about his high-fashion tastes, his glamorous life, and supposed street cred, the latter a frequent source of controversy.