In the early 2000's, pop-punk was in its golden age, and Drive-Thru Records was the hub of all the big activity. Home to bands like New Found Glory, Something Corporate and The Early November, Drive-Thru found further success when it released The Starting Line's debut album, Say It Like You Mean It. The Starting Line became poster children for the Warped Tour scene and were even able to accomplish the difficult task of avoiding the sophomore slump and going on to write an even stronger third record.
In 2008, the band went on hiatus, as frontman Kenny Vasoli and keyboardist Brian Schmutz pursued their experimental side project, Person L. The band released two LPs before going silent for a few years, but Vasoli hasn't stopped making music. Joined by members of Brooklyn-based Body Language, he now fronts the dreamy indie pop band Vacationer. We had the pleasure of chatting with Vasoli about his newest project, their creative process, and why he's looking forward to The Starting Line's upcoming 10th anniversary tour for Say It Like You Mean It.
OS: Give us the backstory behind Vacationer and how you met the members of the band.
KV: I started making Vacationer music in the summer of 2010. For awhile, I'd been wanting to get into an electronic project. Something I could set up more simply than a full, live rock band. I also wanted to do something that wasn't so heavy on the volume. I reached out to my friend and former bandmate Matt Watts and asked if he knew of anyone up in Brooklyn that might want to try collaborating with me on something in the electronic realm. He sent me some links, and on that list was a band called Body Language. He said that there were two guys, Matt and Grant, that produced electro stuff, they'd worked with Passion Pit before. He set up like a blind date kind of session for us. I came up there and played them a few things that were inspiring me at the time, and we managed to come up with a loop and a beat that first session. Eventually that song became "Great Love," which made it on to the record.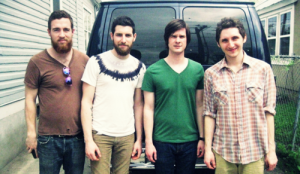 OS: This project has such a unique sound to it; there's a lot of cool noises and loops going on. What is the songwriting process like for you guys?
KV: Usually those guys will have a short idea, anywhere from 30 seconds to a minute long. They'll send me a skeleton idea for me to work off of. I'll go through a few ideas that I have, cut up their stuff a little and rearrange it, and then send it back to them. They'll send me notes on it and then we set up a session. It's a pretty quick process, how the songwriting goes. We just bounce it back and forth to each other and then lay it down.