Rappers are cool. There's no denying that. Money, cars, girls, notoriety; what's not to love? It's all very gangster, very Scarface. It used to be that all these things were the aspirations of the boys from the hood, born from the dreams of those who came from nothing. But what happens when kids from a"shall we say, more gifted background"try to break into the rap game? There seems to be a growing trend of rappers that have come from less hood backgrounds that are trying to break into the game.
We're not talking about Drake here, who may have been a child star but who has had his share of hardships growing up. Speaking of which, Draco Malfoy has been mulling a rap career. But all kidding aside, these are the children of celebrities, A-listers, that are trying to become rap stars.
First up, Chet Haze. Haze first came to prominence in 2010 with a remix of Wiz Khalifa's Black & Yellow redone in honor of his alma mater, Northwestern University, White & Purple which you can hear below.
Outside of the school spirit, there's not much to distinguish the young rapper from similar artists. Does he like smoking marijuana? Yes. Does he love the ladies? Oh yes indeed. So what distinguishes this young emcee?  Do you see any resemblance to his famous father, Tom Hanks? Yes, the star of the Da Vinci Code, the Toy Story franchise and Forrest Gump has rapper for a son. One would think that the progeny of Hanks would go into movies. After all, brother Colin has had a successful, varied entertainment career of his own so far.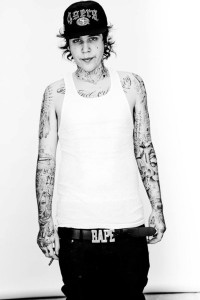 Rich Hil certainly looks more authenic then Haze, covered in ink with a scraggly, thuggish fashion sense to boot. A fashion sense that seems no way influenced by the work of his father, designer Tommy Hilfiger. Rich's connection with the hip hop world might seem as strange as Haze's, but he does have a certain pedigree. Don't forget that Hilfiger was worn very frequently by rappers in the 90s, from Snoop Dogg to Aaliyah. Who knows, maybe a young Rich Hilfiger was palling around with his father at the end of a fashion shoot and was approached by a rap impresario like Puff Daddy or an icon like Coolio and thought, "Why not me?" Well, while Chet Haze may seem more at home with the hashtag rap and good time vibes akin to the likes of Khalifa, Curren$y and Rick Ross, Hil is seemingly a bit more serious about his craft. He recently announced that he has been officially been signed to Warner Records after spending time on Swizz Beats' Full Surface imprint. He even has a rap sheet. In the authenticity contest, it sounds like Rich has the advantage over Chet. But more importantly, how does he stack up musically? Check out the clip for "Cookies and Apple Juice" below and see for yourself.