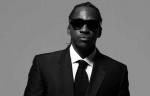 G.O.O.D. Music artist Pusha T is a busy man. After performing at SXSW last week, Pusha is gearing up for a series of US dates while continuing to work away his days in the studio.
Speaking with MTV Hive recently, Pusha discussed his desired collaborations if money and time were not an issue. The first person on his mind? None other than "Skyfall" Oscar winner Adele.
I feel like I could get Kanye to do the track of all tracks and I could get Adele to sing the soul of all soul on one of my most introspective records ever, that would be it.
We have to agree with Pusha on this one. After building a career on his own story of struggle and perserverence, the only thing that could take Pusha's emotional depth any further would be the angelic-yet-heartbreaking voice of Adele. Whether or not it will happen is anyone's guess, but it's not like a superstar guest appearance would be the most insane thing someone working with Kanye West has ever done, right?