Joey & Rory make no secret that they're as country as their music.
Although the married couple, Rory Lee Feek and his wife Joey Martin Feek, came to prominence on a reality television show"CMT's Can You Duet"they are the real deal as far as country life and values are concerned. Not that the two don't have bona fide music chops, such as Rory's songwriting credits for a host of hitmakers including Blake Shelton.
"We kind of look at our careers a little differently [than some other artists]," said Joey. "What we do is unique and we're not afraid to step out of the box. Our faith is ultra important to us."
One way the duo is setting its own course is to record and tour behind their new Christmas recording A Farmhouse Christmas, the third album of their career. Although some artists wouldn't consider releasing such a niche album so early in their career, Joey & Rory didn't hesitate .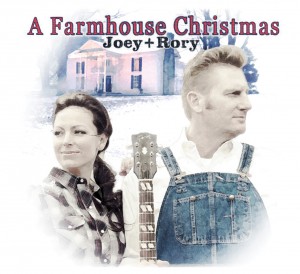 "Christmas is Rory's favorite holiday. What gets him in the spirit are classics like [a holiday movie featuring the television family] The Waltons and [songs by] Nat King Cole," said Joey."People record the same songs over and over and there's nothing unique. How often can you sing 'Jingle Bells?' Rory being the songwriter that he is and bieng so talented and loving holiday and music, he has always wanted to record a Christmas record. When I asked him what would make it different he said 'Well, we will write solely for this project.'"
The couple are proud that they have recorded an album that is full of what Joey calls "new standards for the holiday." Besides the new songs such as "Let it Snow (Somewhere Else), which Rory co-wrote in Key West, FL, the duo recorded songs that aren't traditionally associated with the holiday including Merle Haggard's "If We Make It Through December." A few traditional Christmas songs like "Away in a Manger" are also included.
Joey and Rory, whose honors include the 2010 Academy of Country Music award for Top New Vocal Duo, have planned a special tour behind the album when it kicks off November 25th in Joey's home state of Indiana.
The stage will be set up like the living room of the couple's 1870s farm house in Tennessee and the duo will mix their personal stories in with the music they play.
"I feel like we're trying to bring elements of fun and orneriness and seriousness and heartfelt love into it," said Joey of the tour and music. "Even though our [personal] faith is ultra important to us, we all have to be reminded of what Christmas is [beyond the] hustle and bustle and stress. It's about much more than that."
For album information and tour dates, check the duo's Web site.