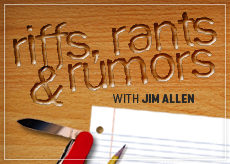 Even if you have only a passing knowledge of ˜80s new wave, it's likely that Thomas Dolby has a place in your heart for lending some class"not to mention the occasional touch of funk"to the burgeoning synth-pop movement with such hits as Hyperactive, Europa and the Pirate Twins, and of course, the ultimate ode to love in a lab coat, She Blinded Me With Science. But if your knowledge of Dolby's career drops off after the ˜80s, it's not because you're uninformed. In fact, Dolby spent much of the ˜90s and ˜00s outside of the music biz, pursuing other electronic interests that we'll get to presently. But now, he's set to release his first album of new material, and we talked with him about that record, A Map of the Floating City, as well as his early output, and got the straight story on Dolby's missing years too.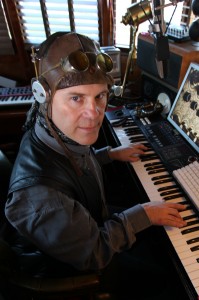 Back in the ˜70s, the electro-pop pioneer was actually a teenage prog fan, worshipping at the altar of arty epics and tricky time signatures. I think many punks were teenage prog rockers, says Dolby. I still remember the outrage that prog rockers felt when punk first came on the scene. When I was fifteen I was into Genesis and Yes and Little Feat and Steely Dan. [Pogues frontman] Shane McGowan, who I was at school with, came in one day and said 'Well, I think The Beatles and the Stones is all shit,' and I remember my sense of outrage. I said, 'Well, Shane, what should we be listening to?' And he said 'Johnny Thunders, MC5, Iggy Pop.' And we'd never heard of any of these people. Of course within a few months we'd all spiked our hair and torn our trousers, and were all down at the 100 club listening to Siouxsie & The Banshees or The Clash."
Even after trading his bellbottoms for leather pants, though, Dolby still gravitated naturally towards the brainier end of the British new wave, idolizing XTC to an obsessive degree. I used to follow them around in the early punk days, he admits. XTC came along and they had the energy of punk, but they had a musical intelligence to go along with it, so obviously that was a revelation to me. I knew their songs inside out, and I remember being in front of the stage, in front of Barry Andrews, their keyboard player, hoping that he would get hit by a tram or something, and they'd have to go ˜Is there anyone in the house that knows our keyboard parts?' and I could leap up on stage.
Before that opportunity arose, though, Dolby began making his own way in the music world, working with other artists at first, from Bruce Wooley & The Camera Club to Lene Lovich. He released his first single in 1981, and his 1982 debut album, The Golden Age of Wireless, made him a success straight out of the gate. The sophistication of Dolby's songwriting put him at the forefront of artists working with the new musical toolkit the ˜80s brought along, and even today he's often associated exclusively with an era when he recalls providing an alternative to a lot of hair bands and a lot of AOR, noting The irony of it is that if you listen to my first album¦a lot of the songs are a three-piece band with additional keyboards. I was a big fan of early Talking Heads, and a couple of songs have that kind of vibe to them.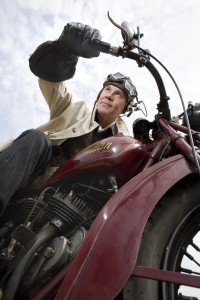 Nevertheless, he still embraces his early recordings. I do feel very strongly connected to them. There's very little that I would choose to redo or delete. I guess, like anyone else in the ˜80s, I fell prey to some trends and sounds of the moment. Some were of my own making, some were just the flavor du jour, but overall I think my early stuff still stands up fairly well because of the substance behind the songwriting. There are some artists that transcend the era that they're from; I think of anyone from Steely Dan to Kraftwerk to Van Morrison or Joni Mitchell, all of whom have influenced me very strongly. You wouldn't catch any of them going out on a ˜70s revival tour¦the contribution they made spanned a wider spectrum than that.
However, Dolby found himself sufficiently dissatisfied with the music industry in the ˜90s to pursue a different course. I thought, ˜I'll take a little sabbatical and go to Silicon Valley and explore my interest in technology,' he recalls. Eventually, he started his own company and created a revolutionary ringtone technology that made a huge splash in the cell phone world, and he created soundtrack music for video games. Dolby found himself a success once more, but in an entirely new context. He could never resist the pull of songwriting for long, though, and the seeds of his upcoming album, A Map Of The Floating City, began to bear fruit. I had some songs that I'd been unable to escape from, he remembers. I needed to get those done, and once I started, I wrote brand new songs. Much of the recording process took place in Dolby's home studio, built inside a lifeboat from the 1930s, which he says looks out over the North Sea and is powered by the wind and the sun.
Perhaps not surprisingly, the songs he recorded in this idyllic setting turned out to be much more acoustic-oriented and balladic than the tunes Dolby is most famous for. The songs from the new album are very organic, he agrees, adding, I'm very influenced by my environment. The inclusion of Dire Straits axeman Mark Knopfler on the track 17 Hills helps lend a rootsy touch as well. I just felt that his style would be a very good complement for the song, explains Dolby. He's a student of American roots music¦I love his lyrical guitar style.
So, with all this earthiness going on, does Dolby still have a soft spot in his heart for the technology of old? Quite frankly, he confesses, a $1.99 iPhone app with a picture of a Mellotron, that sounds pretty close to the real thing, is to me a huge improvement on something that goes out of tune and takes three guys to carry it. But I know purists would probably be outraged to hear me say that. Nevertheless, he can envision a future where even today's cutting-edge digital gear is fetishized as vintage equipment. I think fetishism for the past will always exist, he speculates, but maybe the future will be [about] jacking into the matrix and imagining ourselves in front of our 64k Mac, playing with those old tools. Things go full circle, so it's hard to know where we'll end up.