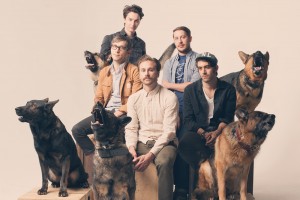 On the occasion of Earth Day 2014, the excellent and uniquely punctuated Portugal. The Man just produced an "endangered song" to raise awareness of the endangered status of Sumatran tiger. The band calls the song "a metaphor for endangered species," in that it is being offered in an extremely limited edition of 400 vinyl records (there are 400 of these tigers left in the wild). Rolling Stone reports:
The track, "Sumatran Tiger," does not officially exist digitally, and, like all vinyl records, will eventually degrade and also become extinct. According to the video above, the copies were sent "to 400 carefully chosen influencers, among them actors, activists, musicians, conservationists, bloggers and journalists" and is, as the band claims, "the first song meant to go extinct unless it's reproduced."
The band encouraged fans to "scour the Internet" using the hashtags #endangeredsong and #sumatrantiger to find recordings of the song.
Watch this short video for info:
More like this:
The National Perform On ˜Saturday Night Live'
Morrissey Rips Into Thanksgiving, Blames President Obama