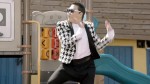 Though critics were not feeling it, fans of Psy are proving they have just as much love for the singer's latest material as last year's "Gangnam Style" by helping the song smash yet another YouTube record.
If you recall, last week Psy's latest broke the record for most views in a single day. It still had a long way to go before reaching the one billion play heights of "Gangnam," but it was a better start than anything else had ever gotten in the history of the internet. We reported on the event, then moved on as we thought most of the world did.
We were wrong.
News coming from YouTube HQ today shows "Gentleman" has done everything but lose popularity in the time since we last reported on it. In fact, the video has just set another record by having been viewed 215 million times in the 10 days since its release. By comparison, it took "Gangnam Style" 50 days to reach the 100 million mark.
Where "Gentleman" goes from here is anyone's guess. It is certainly climbing in plays fast, but can the popularity last long enough to cross the billion mark? We'll have to wait and see.
Fun fact: Not every country loves Psy. The video for "Gentleman" was banned by a South Korean broadcaster last week because of its depiction of "the abuse of public property. (more…)