Rapper's Delight: Hip Hop Girls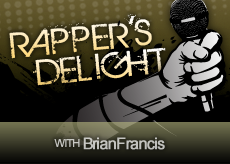 Women have played a critical role in the evolution of hip hop; Queen Latifah, Lil' Kim, Missy Elliott, Lauryn Hill and Nicki Minaj, to name a few, have all left distinguishable marks. In 2008, the Hip Hop Culture Center in Harlem recognized their importance with its first annual tribute event called "The Impact of Women in Hip Hop". Our very own fast-growing pool of female talent, living in the Hip Hop Channels on OurStage, also deserves some love, and we thought that featuring a playlist with a few of them was apropos.
One prime example is Nikki Lynette, who won our "NextMovie Review" competition just weeks ago with her upbeat, genre defying dance jam "Love U Crazy." Check out her review of the new Pirates of the Caribbean movie for MTV's NextMovie.com. And that's not her first big moment on OurStage; Nikki was a finalist in OurStage and New Music Seminar's "Artist on the Verge" competition last year. "I was competing against all male rock bands, she recalls, and I still managed to come in 2nd. Black girls know how to rock, too!" She's lingered in the Top 100 of our Best of Urban charts for nine weeks this year, too, peaking at 11.
Another exciting artist to follow is @Ibtunes. This Houston sensation has opened for Drake, J. Cole and Wale and was featured as the Unsigned Band of the Month in this past March's edition of High Times Magazine. She's also been doing very well on OurStage this year; take a minute to check out some of her mixtapes here. I mean, c'mon, they're free!
The Lyrical Maze is another one to keep your eye on. Given her childhood interest in writing and poetry, TLM is aptly named. Her confidence on the mic is not surprising either"she's been competing in and winning talent contests since she was thirteen. More recently, she's transferred these skills into live performances and even a headlining slot at the NWO Word Warriors Tour. This interview with Female First sheds some more light on the person behind the music.
Tracks by these women, along with other female artists, are included in the player below. We're proud of their achievements, and we're sure there's something here for everyone. Do any of these tracks really stand out to you? Write us a comment and tell us why.