fun. Perform "We Are Young" On X Factor UK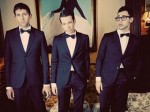 Some bands have a certain undeniable charisma both on and off the stage, captivating fans within an instant. For so many, fun. is exactly that type of band. Exploding onto the scene earlier this year with We Are Young, fun. has been non-stop, with live performances on award shows, tours and now the UK's X Factor.
You can check out the performance right here and don't forget to catch fun. on tour with dates all through April.
If you like fun. check out OurStage artist Derek Teague Band.
More like this: