Riffs, Rants, & Rumors: Chris Stamey's Cure For The 'Lovesick Blues'
Chris Stamey learned at least some of his craft directly from the late legend Alex Chilton, as a member of the erstwhile Big Star frontman's backup band, so he could safely be considered a torchbearer for the kind of power-pop craftsmanship Chilton and company exemplified. From his days in Sneakers with Mitch Easter to his classic early-'80s albums as a member of The dB's and his subsequent solo career, Stamey has created a vivid body of work that encompasses hushed, fragile ballads, raw, ragged rockers, and more. Earlier this year, he rejoined The dB's for a long-awaited reunion album, the excellent Falling Off The Sky, and while the iron is still hot, he's got another release in the works. Lovesick Blues, due out early next year on Yep Roc, is Stamey's first solo album since 2005, and with its elegant, artful arrangements and autumnal tones, it definitely falls more in the fragile-ballad camp for the most part. FYI, the title track is not the old Hank Williams tune; but going strictly by feel, the record could just as easily been named after the ethereal '80s b-side that gets a richly deserved reworking here""Occasional Shivers." Since Stamey was game for answering a few questions in advance of the album's release, it seemed cruel to make his admirers wait months for word about what he's got in store.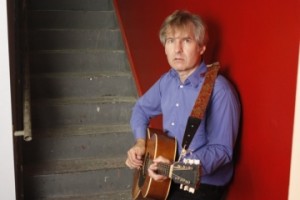 Your last solo album was made with Yo La Tengo. How did that experience differ from the making of this album?
The record A Question of Temperature that I made with Yo La Tengo was in many ways a busman's holiday; we enjoyed playing together for a few days at Water Music in Hoboken, my old stomping ground, and there was a quality of improv and shooting from the hip. We were planning on making an EP and ended up with more tracks than we'd thought we'd have, but it was never designed to be a coherent song cycle in the way that a regular Album with a capital 'A' usually is. Lovesick Blues was made in the regular way; I wrote songs, played them for my producer, we picked ones to record, the best keys and tempos, etc. This record was different from my other capital-'A' albums in that I sang and played first instead of last"and we shaped it around my performances at the mic instead of doing the instruments first, then shaping the singing around the band tracks.
Lovesick Blues comes hot on the heels of the dB's reunion"did either project had any effect on the other?
This record was recorded after the dB's record, and the members of the dB's don't play on it and in fact haven't heard it"yet, anyway. The only connection I see, really, is that I had written the wind and string arrangements on the dB's record"to "The Wonder of Love," "Write Back," "Albatross," "Collide-o-scope," etc." which got me back on that path of notes on paper. But none of these songs were rejects from a dB's record. The dB's records are for the most part based around how Will [Rigby, drummer] and Gene [Holder, bassist] play; this record was not based around a groovin' rhythm section that much, it's more about lyrics and melody and shifting instrumental colors.
Considering your own extensive production experience, why did you have someone else produce this album?
It's the old saw, "A lawyer who represents himself has a fool for a client," you know"I always think it's hard to see or hear yourself, even though my friends Mitch Easter and Don Dixon produce their own records very well, thank you. But it's not for me. Jeff Crawford was a great boon for this record; he's highly musical and very focused and creates an atmosphere of trust and simplicity in the studio, and this both fit the material and informed it. I did do a lot of the daily work and wrote the scores for the orchestral players, we were partners in a lot of ways in this. But I couldn't have done it without him and I hope I can work with him again.
There's a great uptempo, poppy tune on Lovesick Blues called "You n Me n XTC," and XTC leader Andy Partridge is credited after Jeff Crawford for "suggestions."
Andy's participation was 1 percent of Jeff's, it was just a bit of fun to have him give us unexpected suggestions from across the water"and very good ones, as well, Andy is smart as a whip, maybe smarter, and very clear. But Jeff was the producer here.
Occasional Shivers is one of my favorites of yours, I'm happy to find a new version of it here, but what made you decide to revisit it?
At one point all the songs on the record were about different kinds of lovesickness, and that one really fit in well. At the end of the day, we added "Astronomy" and "You n Me n XTC" and broadened the picture some so it wasn't so bleak, but the core story of the record is about what it's like to be haunted, and "Occasional Shivers," which is in the mold of a classic torch song, really fit this conceit. Also, that song never had a real shot in the spotlight, it was just a live b-side on the back of a Christmas 45, but in terms of straight-up, basic songwriting, I'm proud of it. I wish someone besides me would cover it, actually.
I'm holding your feet to the fire here"can you choose a favorite track from Lovesick Blues?
My favorite track from Lovesick Blues is the title track, my guilty pleasure is "You n Me n XTC."