Beecher's Fault – "Life In This Light" [VIDEO]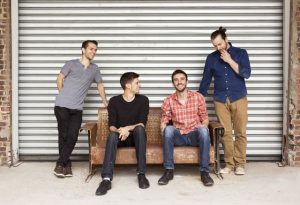 Following last year's Do As People Do EP, Beecher's Fault are back with a new single, "Life In This Light." The new track is a complex hybrid, adorning the band's folky rock with soulful, gospel-inspired backing vocals and ambient guitars, all of which get their moment to shine through a spare arrangement built on the rush and lull of complicated rhythmic patterns. And then just when you've caught up with the flow, the song launches into it's final third, a driving rock beat with some classic rock guitar figures and vocoder vocals.
The song is accompanied by a lyric video with disconcertingly busy city-life images juxtaposed with sweeping landscape images, further emphasizing the duality of the music and the lyric's preoccupation with maintaining perspective. Watch below.
More like this:
'Do As People Do' – The New EP From Beecher's Fault
The Ragbirds Premiere "Breakdown" Video On AXS-TV
Darlingside's "The God Of Loss" Video
The Return Of Bronze Radio Return