Single Premiere: KAZE, "Fierce"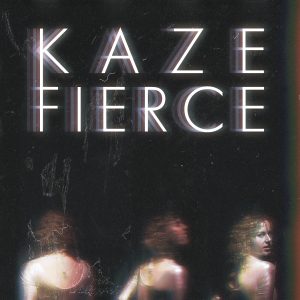 We have the premiere of "Fierce," the brand new single from Manchester duo KAZE (say that like KAH-zay). This exciting and inventive band first came to our attention by way of their first single and video, the startlingly original "Pinned On You," which became our video of the month in August last year. "Fierce" is just as inventive. Though it begins with a conventional, piano-driven verse, it quickly builds to dramatic chorus, displaying shades of some of KAZE's chief influences, including Steely Dan and Radiohead.
As the title hints, "Fierce" is an anthem of empowerment. Songwriters Graham McCusker and Amy Webber tell us, "'Fierce' is about finding your inner strength to finally stand up to people who intimidate and bully you. It's about finding your power and your confidence to stand up to injustices." Fortunately, the song does not fall victim to cliché, reiterating worn sentiments. It is one of KAZE's great strengths that they can say something new about such a universal subject, just as they had a new approach to what, at its core, was a breakup diatribe in "Pinned On You."
Despite a compelling flair for the dramatic, KAZE's songs are streamlined and economical, filtering weighty prog into thrilling pop. Following up the debut EP No Filter, "Fierce" is further evidence of a promising artistic force.