Alas, the day is upon us to write the last edition of Press Shuffle. As a way to close off our run of musical exploration, we've decided to compile our personal favorites from all our previous playlists and put them together here"take a listen at your leisure. We hope you enjoyed our trip into the OurStage vaults as much as we did, and we hope to see you soon!
"Rule The World Freestyle" – Jae Apollo: This song is a great example of traditional rhyme schemes in hip hop; working with the last word of a phrase, the vocalist adapts phonetics to fit his purpose. Proficiently executed, Jae Apollo's track represents the path modern hip hop has been taking in the last couple years.
"Aheste" – Fahir Atakoglu: Tinged with Middle-Eastern harmonies and colors that reflect the composer's background, this wonderful fusion tune brings the early Brecker Brothers recordings to mind, yet the track is incredibly successful in maintaining its own identity, which makes it a personal favorite.
"Colorado Rain" – Fiske and Herrera: A song about travel and discovery, it reminds us that life is about living. As simple as it sounds, many forget this simple tenet. To know where you're going, you need to be aware of where you've been.
"Complicated Rhythm" – Bella Ruse: Is that a typewriter? By golly it is! It's been stated before that this author has a soft spot for happiness-infused folksy duos and their feel-good, lovey-dovey lyrics, so it shouldn't come as a surprise that this incredibly talented act is included in this list. Besides, singer Kay Gillette's vocals are so invitingly playful that she draws you deep into her musical world in mere seconds.
"Something Insanely Clever" – Ellen Cherry: Ellen Cherry's incredibly soothing voice is but one of the highlights of this track. The contrast between the rhythmic guitar strumming and the ethereal texture of the strings give the song's form a perfectly cohesive structure and just the right amount of tension it needs.
"Peace Of Mind" – Zebulun: If peace of mind is hard for you to find, then music is what you're missing. The use of reggae as a tool for protest has always been powerful, and this song is an excellent example of the voice of the people.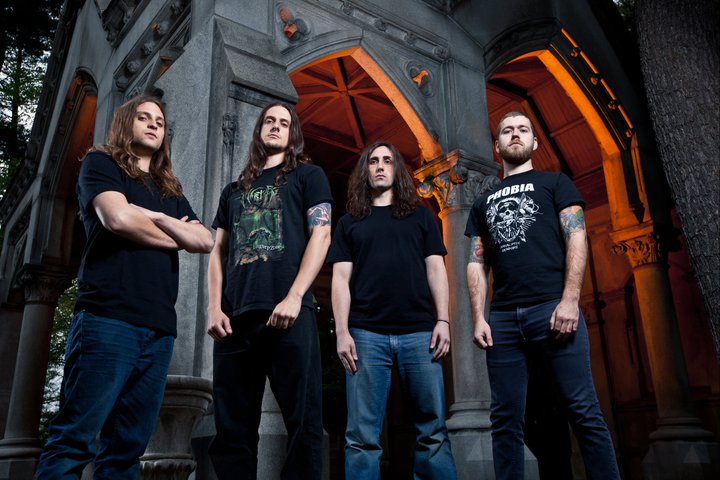 "No Funeral" – Revocation: Whether you feel like being being pounded by a relentless assault of drums, have your face melted off by Dave Davidson (who we recently had a chat with) and his shreddy guitar parts or just enjoy pure, unadulterated energy pumping into your ears, this song is for you.
"Veda" – Grannada: Driven by late-century alternative rock, Grannada bring hard-hitting riffs and a Cerati-reminiscing vocal melody from Panama. If your thing is hard rock, then this song is for you.
Have any tunes in particular that you care to share? Disagree with any of the picks?  Let us know by dropping a comment!
Listen to previous Press Shuffle playlists over at 8tracks.com.