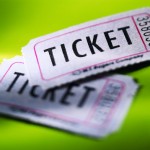 As more bands emerge every day and venues continue to close, opportunities to play better shows become fewer. In addition, the overhead costs of running shows have seemed to increase along with the risk of low turnouts. As a result, an increasing number of promoters are turning to a new business plan. Anyone who has been in a new/local band within the past 5 years or so has probably encountered the rising phenomenon of pre-sales.
Here's how it works. Bands who want to play a show are asked by the promoter to sell a certain amount of tickets before the show to ensure their spot on the bill. Rules change for different promoters, depending on how lenient or strict they are. Sometimes, the pre-sale requirement is just a suggestion with no consequences if the requested amount is not sold. But often, the promoter expects a certain amount of money from the band regardless of whether or not they can sell all of the tickets. If the band does not pre-sell their share, they run the risk of having to pay to play or drop from the show.
From a business perspective, this makes perfect sense to a promoter. By getting bands to pre-sell tickets, you can guarantee attendance, thus covering certain venue costs and eliminating some of the risk involved with putting on a show. However, too many promoters are taking advantage of and abusing this system because it allows them to work less while the bands are required to work more for the same pay or even none at all.