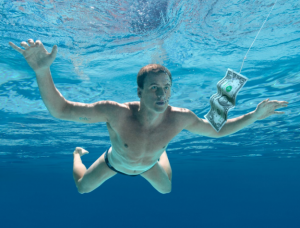 By Nick Friedman. So ESPN Magazine's "Music Issue" hit my doorstep yesterday morning and I'll tell ya what, its unreal. Outside of the insipid, dimwitted Ryan Lochte making an appearance on the cover of Nirvana's Nevermind with his goods protected by a Speedo (remember, that baby was NAKED), each and every other "cover act" was golden.
But after flipping through photos of linebacker Lamar Woodley as Jam Master Jay, quarterback Josh Freeman with immaculate, Michael Jackson-esque jerry curls, and MLB studs Brandon Phillips and Justin Upton rocking red Devo energy dome caps, I got to thinking: which athletes actually succeeded at making music? Obviously – with the exception of the late, great Wayman Tisdale – no athlete has ever really produced a full body of work we'd consider credible. Nevertheless, there have been some classic releases that I will forever enjoy bumping in my dorm room or in the hooptie. So, without further ado, here are my nine favorite athlete songs of all time. Why not ten? There just aren't ten.
9.) Wayman Tisdale—"Let's Do It Again"
The reason for holding the only athlete who I consider having a credible body of work at the number nine spot? Because my favorite track of his was just begging to feature Michael McDonald. Instead, Wayman decided to keep it strictly acoustic and left a would-be masterpiece haunting our consciences. Why no Michael McDonald, Wayman? WHY?