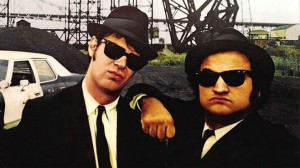 OurStage's Top Ten Fictional Music Movies: There are many film scripts that invent bands as part of the narrative. Most are just an afterthought, and many more are forgettable and awful, even as a figment of a screenwriter's imagination. These films created the best, funniest, most realistic, lived-in bands in film.
10. Light of Day (1987)
Who in 1987 wasn't waiting for the Michael J. Fox – Joan Jett big screen pairing? The only question was what the vehicle would be. A rom-com? Sci-fi thriller? A Tango & Cash"esque buddy cop action-comedy? A Back to the Future sequel where Marty meets The Runaways in 1977? What we actually got was an unexpectedly gritty family drama, centering on the relationship between brother and sister Joe and Patty (Fox and Jett), who perform together in a struggling E Street-esque bar band called The Barbusters. I have just told you the worst part of the movie. The band is called The Barbusters. This blow is softened by the appearance of the great Michael McKean as a band member"one of McKean's THREE appearances on this list.
Paul Schrader, writer of Taxi Driver and Raging Bull, wrote and directed this film and in fact commissioned a song by Bruce Springsteen. Springsteen came back with Born In The U.S.A. but decided to keep that one for himself. Too bad, it could have been a hit. The Barbusters do a decent job with his alternate effort, the title song, Light of Day." And, hey, look, Michael J. Fox can sing. This begs the question"what the hell, Robert Zemeckis? The idea that it's Fox' voice singing Johnny B. Goode in Back to the Future is the least credible part of a movie about a time traveling DeLorean that runs on plutonium.
9. 8 Mile (2002)
People say that Eminem was basically playing himself in this film about an aspiring rapper from Detroit with a fucked-up mom and few prospects aside from an innate and unique lyrical flow. But it's a mistake to go into this thinking it's the Eminem Story. Em and director Curtis Hanson wisely keep the character of B-Rabbit sullen and low-key. The rapper is not a great actor, but he plays this one just right, with visibly crippling insecurity and remarkably restrained rage. The cleverness of the "improvised" rhymes staged on street corners and at club battles is just short of believable, but (spoiler alert) at the end, when B-Rabbit destroys all comers with Eminem's signature delivery, disbelief is easily suspended. This won an Oscar for the great lead song Lose Yourself.