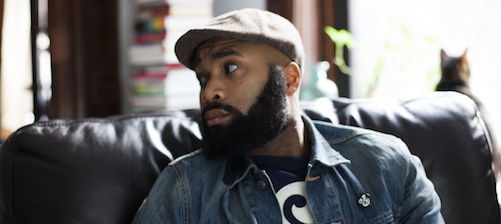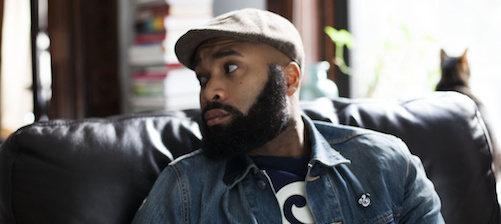 We last heard music from Joel. (aka MaG) on his 2013 release (via RCRDLBL) Freedom, a soulful slice of American hip-hop. He didn't go silent between then and now – those who follow him on Twitter know that Joel is a poet and a non-stop thinker, with an eye toward social progress and absolutely no patience for bullshit.
It's no surprise to find that same spirit in the music he's been working on. songs for charles is an independent release dropped just last month, and it kicks off with a short audio clip from Jay Z in the studio, taken from the film Fade To Black. This track, titled "what Hov said…(intro)," captures Jay discussing young rappers coming up; artists who believe they have to write about things they don't feel and don't know. He tells the cameraman to put the lens on him before saying, "See what y'all did to rappers? They scared to be theyself."
Being true to himself, then, serves as Joel.'s mission here. "I can't speak for no one else / but I'm gonna keep on being myself," goes one of the refrains on the first song, "creston and 188th." What follows is a personal catharsis. The next eight songs are all at least rooted in the past, even while facing the present. He looks back on his upbringing, his family, lessons learned and carried forward. "We was young / we was reckless," he says, in the frank and unsentimental "hash browns." The chilled out, hypnotic loop of the song keeps the mood static and, as much as the lyric, creates a vivid atmosphere, if not an especially warm one. It actually feels like a carefully constructed sound collage, pieced together from '70s-'80s AM radio dials, video games, cassettes rewinding…the sounds of a childhood, running in the background.
"new, new york" brings us into the present, or at least the very recent past. But each track here, just like real life, builds on what came before. That's why, even though this is an eight-song collection (nine tracks), I take songs for charles as a real album. It's not a mixtape, nor a collection of singles. It's a thematic, narrative flow. And, like a lot of Joel.'s work, it's densely filled with imagery and wordplay, and almost has the feel of a stage play. With only a few listens so far, I have not absorbed every nuance, but I look forward to trying.
"better late than never (intermission)" is a dreamy flight, with a backing that sounds like recent Radiohead; droning chords bracing syncopated, jazz drums. The lyric is equal parts past, present, and future, and how they are helplessly intertwined, with a hook that declares, "I'd rather die than let go of one of my dreams / one foot forward, all I gotta do is proceed…It's never too late to dream." Hope continues to be a central theme here – aspirations for a better life, one that's more fulfilling, one that is free from the troubled past, and one where glory is attained on no one else's terms but your own.
Certainly Joel. knows there's no complete escape from what came before. But songs for charles is at least an attempt at exorcism. Facing pain in stark terms, he describes a present in which personal reconciliation is already under way, and this music – in all its expressive, subtle complexity – is the conduit.