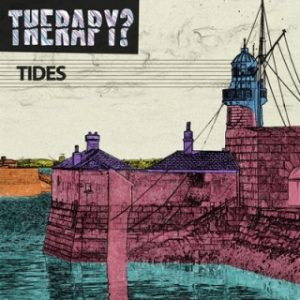 Pioneers of heavy duty alt rock Therapy? today released a new EP, Tides. The four-song collection follows 2015's excellent Disquiet LP, and leads with that album's third single (the title track, "Tides"), followed by two new B-sides and a remix of "Insecurity," a different version of which also appeared on Disquiet.
Regarding "Tides," Therapy?'s Andy Cairns recalls:
When I lived in Dun Laoghaire in Ireland I used to live near the harbour, and some nights I'd stay up all night to try to get inspiration for songs and I often ended up going down to the pier and just looking out at the waves. Later on I found out that Samuel Beckett used to get a great deal of influence from that as well… I took that low point in my life and how I managed to dig myself out of it as an inspiration. 
Originally Tides was written kinda like Die Laughing or Nowhere off Troublegum, with a catchy Husker Du-influenced chorus, but we took a bit of influence from bands like My Bloody Valentine with the brief section of warped guitar.
More like this:
New Album From Therapy? Out Today On Amazing Record Co.
New Therapy? Single "Deathstimate" Out Today
Haster Signs To Musicarchy Media For Sophomore Album