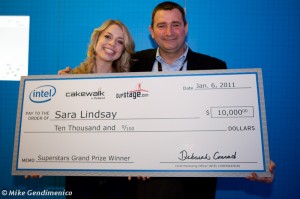 As we really get rolling with the 2013 edition of our Intel Superstars Competition, we'd like to take a look back at some of our previous big winners. Each year there have in fact been several winners of prizes ranging from a new Intel Ultrabookâ"¢ device to new instruments and equipment to straight-up cash. But only one per year can be named the top Superstar and walk away with the grand prize, which this year will be a check for $10,000.
In 2010, the Superstars Competition was a new idea, and a lot of artists weren't sure what it was all about. Enter Sara Lindsay.
As an established member of the OurStage.com community, Sara stumbled upon the Intel Superstars Competition in the summer of 2010. She submitted her upbeat single Best Of Me to the Singer-Songwriter category on a whim. When she heard the news of her grand prize winnings, including an Intel® Coreâ"¢ i7 processor-based mobile device, she was elated.
Winning has been unbelievably great and has opened a lot of doors, she said. It has given me a boost of confidence and the opportunity to record and play a lot more, Lindsay recounts. It's great being able to lay down tracks using all these electronic sounds and with my Ultrabook I can show people those ideas.
Do you think your song can take you to the top? Enter the competition now, tell your fans to judge for you, and you may very well be next. Remember, Intel and our sponsors are giving away eight prize packages, in addition to the grand prize. And fans, you too can win a new Ultrabook device, just for judging. Find out more here.