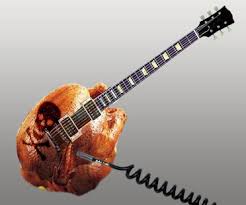 We've all been there before: It's mid-October and you're walking around Wal-Mart, halfheartedly looking for a costume and mostly using the trip as an excuse to scour the aisles for cheap Halloween candy, when suddenly your ears detect something amiss.
Is that…? It can't be. But it is! That superhuman wail is unmistakable! Mariah Carey's "All I Want For Christmas Is You" is playing over the crackling Super Center speakers! A wave of disgust washes over you (Seriously, Christmas songs already?), which is quickly overtaken by panic ("I haven't bought a single present yet!"), which then turns into joy (I'm going to get SO MANY PRESENTS!). Or, at the very least, the feeling becomes a sort of numbness to all things Santa-related that lasts until December 25th rolls around and you're promised another ten months that are free from Michael Bublé and his stupid, charming face.
Just thinking about the sheer number of times you'll have to hear "I Saw Mommy Kissing Santa Claus" before the year is out is enough to make anyone nauseous, regardless of how much egg nog you've had to drink. But the real bummer here is that Thanksgiving songs get totally overlooked in all the hubbub. One minute, you're getting your spooky on with the help of "Werewolf Bar Mitzvah," and then suddenly you find yourself humming along to "The 12 Days of Christmas," almost against your will.
But here at OurStage, we don't stand for that. We like autumn, we love turkey, and we can't live without music, so we compiled a playlist of some of the very best Thanksgiving-themed tracks. Check out this collection of songs about stepping on crunchy leaves, being grateful for what you have, and how much food rules* on our very special Thanksgiving playlist.
A Very OurStage Thanksgiving by Emily Cassel on Grooveshark
*Disclaimer: We included at least one tune about how much autumn kind of sucks, actually. But, like… there's so little daylight, you guys. And it's so cold.