Sound And Vision: How Christina Aguilera Can Ignite Her Comeback? (Psst, She Doesn't Need Eminem!)
Katy Perry, Lady Gaga, Beyoncé, Ke$ha and, of course, herself. As Rihanna sees it"or saw it in the September issue of Glamour magazine"they're the girls who run the world of pop in 2011.
What? No Britney Spears. I'm pretty sure leaving her duet partner on the recent No. 1 remix of "S&M" off the list was an innocent oversight. But what about Christina Aguilera? That omission must have been intentional. (By the way, I'd certainly argue that Pink, who's between albums and focused on mommyhood at the moment, and Adele, whose 21 album is outselling all of theirs combined, would qualify as much as Ke$ha.)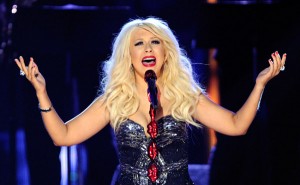 There was a time at the dawn of the millennium when Aguilera was the pop princess-in-waiting, second only to Britney Spears. But 2010 was truly her annus horribilis. First, there was Bionic, her fourth studio album, which failed to produce a major hit single and didn't even go gold. Then her summer tour was cancelled. (She blamed scheduling issues, but the forecast no doubt called for limp ticket sales). And by autumn, her tepidly received film debut in Burlesque (a guilty pleasure and future camp classic if ever there was one, but mostly thanks to costar Cher), was doing nothing to restore luster to her falling star.
Her October divorce from Jordan Bratman, the father of her 3-year-old son Max, blemished her personal record, and flubbing the lyrics to "The Star-Spangled Banner" at Super Bowl XLV in February, further tarnished her professional one. By the time she was arrested for public intoxication in West Hollywood on March 1, her career seemed to be flatlining.
Get it to the OR! Stat!
For weeks, it was touch and go. Though we thought we'd lost her to the treacherous cycle of pop stardom (divas come, divas go), she kept on barely breathing. But is there now life after life support? One surefire sign that Aguilera's career is rising from the near-dead: People are talking about her again. Well, perhaps just Kelly Osbourne, who earlier this month had nothing nice to say about Aguilera or her tight black dress on E!'s Fashion Police.
"Maybe she's just becoming the fat b***h she was always born to be. I don't know. She was a **** to me," Osbourne slammed. "She called me fat for so many f**king years, so you know what? F**k you, you're fat too." Osbourne may have gotten the last word against Aguilera (for now), but she was helping her, too. The fact that she was talking about her at all and that the story became front-page entertainment news indicated that people still care. Not bad for a diva whose career had been knocking on heaven's door.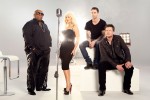 Blame the resurrection on The Voice, which premiered on NBC  in late April. When Aguilera accepted a mentoring/judging gig on the new TV pop-star search alongside Adam Levine, Cee Lo Green and Blake Shelton, many saw it as a career demotion, similar to the initial view of Jennifer Lopez on American Idol. But look how that turned out for J. Lo. The Voice ended up being a hit and was renewed for a second season, and more importantly, Christina Aguilera is a hitmaker again, thanks to the show. "Moves Like Jagger" her collaboration with Maroon 5, her coworker Levine's band, recently entered the Billboard Hot 100 singles chart at No. 8, becoming her first Top 10 hit in three years. The song's video, now on YouTube, has given it a gusty second wind that's blown it right back into the Top 40.
Now there's talk of another hot collaboration, this one with former nemesis Eminem, on her upcoming next album. While that's a great sign, I hope it doesn't mean that Aguilera will be hooking up with the same guys that her female peers have been passing around for years now. Eminem already joined Rihanna on last year's Grammy-nominated No. 1 hit "Love the Way You Lie," and he's recently worked with both Pink and Nicki Minaj. (Incidentally, Rihanna also got to Maroon 5 first, with the band's 2007 single "If I Never See Your Face Again," which peaked at No. 57. So much for running the world.)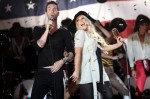 In order for her career to truly be born again, Aguilera needs to move further away from the pack. I'd like to see her come back with a kick-ass non-electro-tinged solo single that's commercial yet quirky. (The Eminem duet, if it happens, could be the follow-up.) Not another dramatic weepy ballad, please. We've heard her deliver enough of those to last a lifetime. She needs to come roaring back with something as uptempo and fierce as "Candyman," something along the lines of Adele's "Rolling in the Deep." A year ago, nobody saw Adele's 2011 domination coming, and now she owns the year along with Katy Perry, largely on the strength of that one song.
I want to see Aguilera update her look, too. It's time to ditch the bleach-blonde 'do that she's been sporting for pretty much her entire career. She already has an ice-queen image, why reinforce it with snow-colored hair that brings to mind the coldest day in January. She should try something softer, sexier, and more befitting a woman who's now in her 30s. Lopez has nailed the grown-up pop-star look recently, and Aguilera would be wise to try it on for her next album cycle.
Of course, she'll have her work cut out for her to regain commercial ground lost to Perry, Rihanna and those other world-running pop divas, but if Spears can come back from her psych-ward episode from a few years back and land half a dozen Top 10 singles (three from her most recent album, a personal best), then a full-blown Aguilera revival is definitely within the realm of distinct possibilities.
You read it here first.