It's like looking at old pictures of your college roommates and then looking at the people that are sitting around your living room now, says Jason Isbell of the songs he wrote during his days with the Drive-By Truckers that remain part of his live set with his current band, Jason Isbell & The 400 Unit. The latter's new release, Live From Alabama, includes a handful of Isbell-penned Truckers tunes, like Outfit, Decoration Day, and Danko/Manuel, along with songs from the three studio albums he's cut since splitting from the Truckers in 2007.
I haven't listened to those old arrangements of those [Truckers] songs for so long, says Isbell, compared to how many times I've heard this band play them, that I really don't remember exactly what they sounded like [originally]. The songs still conjure up the same images for me, and I still think about the same things that inspired me to write the songs in the first place, but I guess it's just different because I'm up there with different people.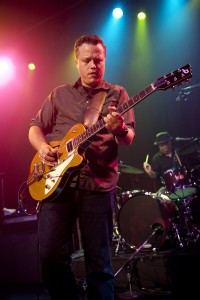 While Isbell harbors no ill will towards his old bandmates, he's definitively living a separate life from them these days. I don't really have a relationship with ˜em, he says. We get along when we see each other, I talk to Patterson [Hood, DBT frontman] every once in a while. I saw him a couple of months ago in Nashville at the Americana Awards. We get along fine, but I don't think there's any need to have a working relationship at this point. They're all busy, and Lord knows I am.
Listening to Live From Alabama makes it clear just how busy native Alabaman Isbell and his current accomplices have been. Over the last five years they've built up a worthy repertoire, a loyal audience, and a sound that has some relation to that of Isbell's former band but bears its own identity. Both bands blend influences from alt rock and Americana to classic soul, but The 400 Unit shaves off some of the Neil Young & Crazy Horse fuzztone frenzy of the Truckers in favor of a more singer/songwriter-oriented approach to framing the tunes.
That doesn't make them any less of a cohesive unit, though. Their all-for-one aesthetic is even apparent in Isbell's account of the band name's provenance. It was a mental treatment facility in Florence Alabama, he explains, it was the crazy house. I've had lots of family members in there over the years. I think we were downtown and saw the van get out one day with the folks that were day patients, they would give them 10 or 15 bucks and put a name tag on ˜em and let ˜em got to Subway or something. It occurred to me that it looked just like a band on the road for six or eight weeks trying to get out and find some food in a small town. Isbell reiterates that he often feels that way when he's on the road with The 400 Unit, observing, I can tell we're causing discomfort in the locals sometimes when we stop and get out."
Explaining the thinking behind releasing a live recording now, Isbell says, I wanted to document the band like it is at this point in time. I think we're connecting really well musically, we're playing really well, we're all having a good time. I wanted to capture that before it changed into something else, as it always does. And from a practical viewpoint, a lot of those songs that I did with the Truckers, people come up now who've never heard the Truckers records and say, ˜Where do I find this, how do I get this song?' Personally, I'd rather sell ˜em something myself than steer ˜em to a record that [DBT's label] New West put out.
Some think of Isbell as sort of the Bruce Springsteen of the South, in terms of his knack for chronicling the tragedies and triumphs of the region's working-class denizens, but there's little of the E Street Band-style onstage pageantry in The 400 Unit's onstage m.o. Whether they're tackling a Truckers tune like Outfit, in which Isbell receives some sardonic advice from his father, or a newer song like Tour of Duty, chronicling a soldier's return home, the band squanders nary a note.
There are different kinds of energy that an audience can give you, says Isbell of his stage experience. You can usually tell if it's gonna be a rowdy crowd, or if it's gonna be a listening crowd, or if it's just gonna be a crowd that's not paying any attention to you whatsoever. I handle rowdy crowds and attentive crowds very differently but I feel like they're pretty equal in value from a performer's perspective. I love playing for people who are having a good time and I equally love playing for people who are studying everything you say and really paying attention. As long as they're with me, as long as they're in the room for a reason, doing something different than they would be doing at a bar next door, it's always positive for me. The shows go better when people are with you, when they're participating.
Turning philosophical about the prospect of live performance, Isbell calls up an unexpected analogy. I remember going to see Radiohead a long time ago, he says, when I was probably 21, 22 years old, and thinking, ˜Man I'm surrounded by a huge group of people who are very similar to me right now — all about my same age, and they all seem to be the nerdy kids from high school.' And that felt really good to me. I think if you make yourself part of the experience, there's still reasons go to see live music.
More like this: