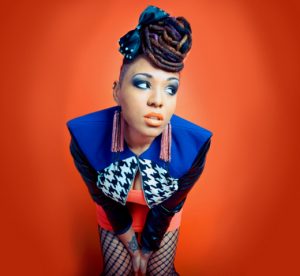 Hot on the heels of her single "Thunderstorm" comes phase one of Nikki Lynette's ambitious new project, Happy Songs About Unhappy Things. The three-part release will be a multi-media exploration of the artist's own struggle with identity and depression. Part one, released this week, is called Manic Pixie Dream Girl, after the familiar archetype defined first by film critic Nathan Rabin, who described a "bubbly, shallow cinematic creature that exists solely in the fevered imaginations of sensitive writer-directors to teach broodingly soulful young men to embrace life…" More broadly, she's a character allowed no agency or nuance and, in fiction, represents a troublingly idealized male vision of femininity in the real world. Lynette talked to us about this trope, her own journey as an artist and woman, and of course her amazing music.
OurStage: This is part one of a three-part project, so it is understandably a bit shorter than a standard album release. Will you consider the entire three parts, together, a full-length album? Or will it be something else entirely? I know you've said this will ultimately include visual art and film, so what will parts two and three consist of?
Nikki Lynette: The reason I broke down Happy Songs About Unhappy Things into three separate musical releases is that I want to tell the story of my mental health breakdown and recovery in a way that lets me walk the listener through it. Manic Pixie Dream Girl is the "Before." The next one, Chronicles of a "Craxy B!+¢#, is the "During," the actual process of being driven crazy. That will be a bit longer of a project because there is a lot to that story. The last one, The Suicide Bridge, is the "After," the point when depression has taken hold and you are walking that line between wanting to get better and wanting to die. I plan to roll out visual art with all of them because, again, it helps to tell the story. And the film will come after all three have been released. The project is extremely layered, but at this point in my music career I'm kinda known for being complicated (laughs).
OS: How did you conceive this project? I can't think of an artist who has released a project in this way. Just in terms of format, does it have any forebears?
NL: I chose to release it this way when I realized that I have music that I recorded during all these different phases in my life. On Manic Pixie Dream Girl, the song "Outshine the Sun" is the most recent. Even though the song is an uplifting tune, you can hear my pain in it. In "The Plot Twist," you hear my pain. Doing it this way gives context to my depression, and if people can empathize with me then they can empathize with their own friends and loved ones who battle mental health issues. On the next release, Chronicles, there are songs on it that I produced when I was living in the hospital with my mom while she was dying, songs I wrote in response to being diagnosed with PTSD, songs I did at the studio after I broke down crying during the session then wrote a song in 15 minutes and recorded it. I don't think I have seen a project released this way before; there are a lot of moving pieces involved because right now I am literally producing and recording two albums at once. But I wouldn't have it any other way.
(more…)