Musicians And Their Controversial Politicking
The election season is upon us! (We're hoping that you've already taken the time to register to vote.) Soon Saint Electicus will shuffle down our ballot boxes, leaving us glad tidings and elected officials we're not really satisfied with under the election tree. Be sure to leave a glass of milk and a plate of warm fresh bills for St. Elick!
The elections tend to stir up some intense feelings in a lot of people. Even some of our favorite musical acts can get caught up in the political fervor of it all. Sometimes this can be the catalyst to some great songwriting, inspiration to stoke the flames of creation! And sometimes, since many musicians are also public figures, these political utterances can inspire some statements that might make the most of us take pause, many of them happening in the past few months! Nicki Minaj anyone? Join us as we take a look into a few other notable musician's political misadventures.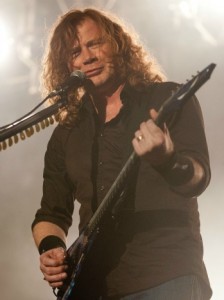 Dave Mustaine, integral figure in the history of heavy metal, is a wild man. As the frontman of Megadeth and ex-Metallica member, being an intense, outspoken individual comes with the stylistic territory. It's also known that Mustaine has been a booster of some of the republican candidates for the presidency, at one point endorsing former candidate Rick Santorum. That said, many were still shocked at comments that Mustaine made during a concert in Thailand. Ranging from accusing the current presidential administration of orchestrating the tragic shootings in Aurora, Colo. and Oak Creek, Wis. to noting that, "it looks like [America is] turning into Nazi America," Mustaine's comments need to be heard to be believed.
Hank Williams Jr. is country royalty. Of that there is no doubt. In addition to his singing and recording career, Williams Jr. also runs his own label and occasionally tries his hand at political punditry. While making an appearance on Fox & Friends, the subject of President Obama's recent golf game with Republican House Speaker John Boehner came up. And Williams Jr. certainly had something to say. Calling it "one of the biggest political mistakes ever," Williams Jr. then took it a step further, saying, "It would be like Hitler playing golf with [Israeli Prime Minister Benjamin] Netanyahu, OK?" Williams Jr. would apologize soon after, calling his analogy "extreme", the damage was already done; the most notable effect of the fallout was that Williams Jr's song "All My Rowdy Friends" is no longer the theme song for Monday Night Football.
80s New Wave mainstays Devo have always been slightly oblique in the way they express their ideological opinions. Did you know that their name is derived from their half-joking assertion that mankind is regressing or DE-VOLVING? It's true. But their sentiments were a bit clearer when they released "Don't Roof Rack Me, Bro (Seamus Unleashed)," a track released during the height of the Mitt Romney "dog on the roof of the story" controversy. "Don't Roof Rack Me, Bro" focuses on the perceived plight of Seamus the dog and while the group claimed that the song wasn't explicitly political per se, Devo member Jerry Casale did cop to plans on voting for President Obama in the upcoming election. The track didn't stir up a lot of dust though, probably because it's just too catchy for someone to get angry over.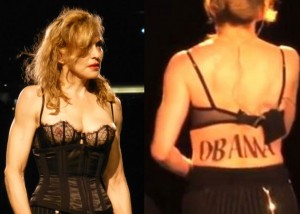 Madonna is never one to shy away from controversy. Never. Even into the fourth decade of her career Madge is still pretty adept at netting some attention grabbing headlines. Her current MDNA tour is a prime example of this, with Madonna initially inciting French conservatives after having an image swastika superimposed onto the forehead of a prominent far-right leader. Well, that didn't get as much play over here in the states as her statements from last week. "We have a black Muslim in the White House," said Madonna. "Now that is some amazing shit." What's amazing is that Madonna had the temerity to say that while on performing in Washington. For the record, Madonna backpedaled on her "joke" by the next day. And that is an Obama "tramp stamp" on Madonna's back.
The Roots might not be touring or recording as much as we would like them to be. But they're still the best band on late night television as the house act for the Late Show With Jimmy Fallon. And that position comes with a few responsibilities. Mingling with celebrity guests, keeping the audience hyped between commercial breaks, netting a hefty paycheck with a steady paying gig… it's hard, unrewarding work to be sure. One night the band did land themselves in a bit of hot water as they introduced Michele Bachmann, then running for the Republican nomination for presidential candidate. Like all guests, Bachmann received an instrumental intro as she came out to meet Fallon. The song The Roots played to walk Bachmann out to the room with? A deep cut from ska act Fishbone's 1985 EP of the same name called "Lyin' Ass Bitch." Coincidence? The band received some mild criticism in the media but the social media backlash was much more pronounced. Roots drummer ?uestlove would later say that the song choice was, "absolutely not" worth it. Check out hazy footage of the video below.
Got any more musically-related moments of political controversy? Let us know in the comments!
More like this: